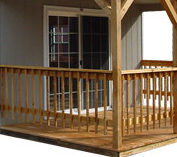 White Cedar Railings,
Balusters, and 5/4 Decking
Yoder's Sawmill turns logs to usable lumber. Whether you're looking for cedar for a deck, hemlock for a building project, or walnut for kitchen cabinets, we can take care of you. We keep a selection of 2x4's, 2x6's and larger dimensional lumber, and various hardwoods on hand. With a bandsaw mill, generous kiln, and crew of workers, we're ready to quickly work on your custom order, large or small.
Call (207) 278-3539 for more details or e-mail us
We're always looking for quality logs. To keep up with the demand for white cedar decking, dimensional lumber, and to keep a variety of hardwood on hand we need a constant supply of solid logs to cut. If you're a logger with cedar, hemlock, red oak, or cherry to sell, we'd be interested in talking with you.
Also, a large part of our business is cutting, drying, and planing custom orders for people. If you have a quality log you'd like to have cut for a special project, please contact us.